Douglas County Commissioners: disc golf project on hold | News
DOUGLAS COUNTY, Ga. — After many of viewers asked 11Alive News to Hold the Powerful Accountable, a project that would have made room for a disc golf course at a Douglas County nature preserve is now on hold.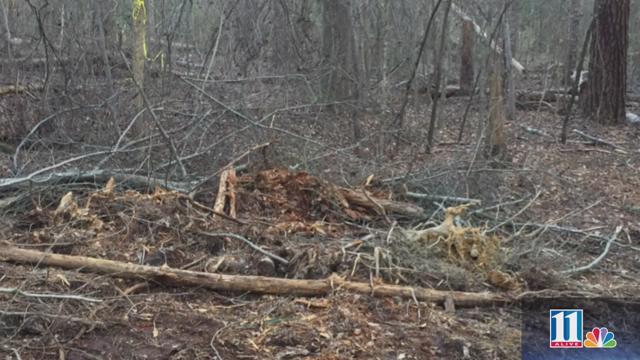 County commissioners held a meeting Friday to determine whether an 18-hole disc golf course could and should be placed at the Clinton Nature Preserve. Commissioners said their goal was to create a course that would impact the existing landscape and trails at preserve as little as possible. According to documents sent to 11Alive, cost of the course is estimated to be $12,000. 
This 200-acre park was donated to Douglas County by Annie Mae Clinton, and as part of her will, the park is required to remain in its natural state as much as possible. But some regular visitors to the preserve are upset with the plan because they say the course would not only violate her wishes, but be dangerous to hikers, bikers and runners who might not see the fast-moving discs criss-crossing trails. 
"I can see a walker, I can see a runner, I can see an equestrian," said biker Brian Olesnevich. "I'm not going to see a disc going at 20, 30, 40, 50 miles-per-hour."
Those passionate citizens started a petition asking the commissioners to stop the project, garnering nearly 1,500 signatures in 24 hours. The group says the first time they heard about the project was after they noticed trees being cut down on the land. 
"We searched the meeting minutes for the past year, and no mentions of it were ever made," said petition organizer Nathan Duce. "We asked the residents out here, they have never seen any signage or requests for information." 
PHOTOS | Clinton Nature Preserve
Even people who play disc golf were left scratching their heads about the plan.
"There should be little to no interaction with the trail systems, and the fact that the cutting here is reaching up to these trails, it just doesn't make any sense," said disc golfer Martin Young. "It looks bad for disc golf. It looks bad for Mountain Bikers, it looks bad for the county." 
The group turned to 11Alive News to get answers, so our Kaitlyn Ross reached out to all of the Douglas County Commissioners to ask about the proposed plan. Commissioner Ann Jones Guider sent an email response back noting that any work on the course is now on hold as they re-asses the project. 
Guider also wanted to clarify that, contrary to what some against the project said, no clear cutting of trees was ever conducted by the county. Instead, the trees that were cut were removed as part of clean-up from storm damage. Guider said the county also took responsibility for a trail that was accidentally damaged, but steps were taken to correct the error. Finally, the Parks department said it is redrawing the layout for the course to make it less intrusive to require as little clearing as possible.
In an emailed statement, Guider said, "We are still considering all the facts before making a final decision...We all love Clinton Farm and will continue to protect it."