Thieves smash stolen U-Haul into stores | News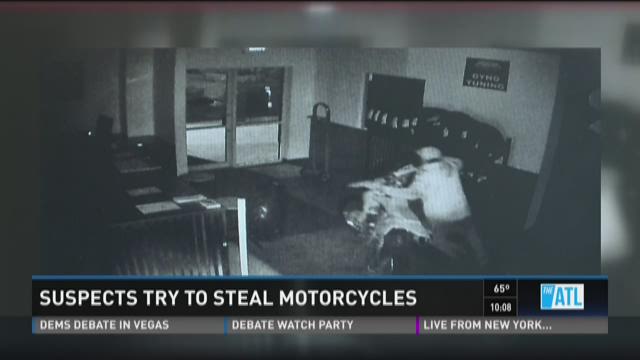 LITHIA SPRINGS, Ga -- Mountain Motorsports, which has six stores in Metro Atlanta, has to feel like they're being picked on after two of their stores were the victims of smash and grab burglaries over the weekend. The thieves tried but failed to steal motorcycles and left more than $100,000 in damages behind.
The two break-ins were very similar. A stolen U-Haul was used to smash into the back of the two stores, and at least eight suspects were seen getting out of the truck. The first store in Lithia Springs/Douglasville was hit at around 2:30 a.m. Saturday and the second store in Conyers was hit at around 2:30 a.m. on Sunday.
Surveillance video from the Mountain Motorsports in Lithia Springs is grainy, but it shows the U-Haul truck smashing into the back of the building and the suspects storming into the show room. Minutes later eight suspects wheeled out eight dirt bikes and tried to load them into the U-Haul.
In both cases, police responded to alarms and scared the suspects off before they could make off with the bikes. "Getting through this building in the dark, if you don't know you're way around it wouldn't be easy to do," said store manager Trey Harmes. "If you've been in here before and you know where you're going you can make it and it definitely looked like they knew where they were going."
Harmes said he believes the suspect knew exactly what they were looking for and knew exactly where in the store to go.
Though they didn't get away with any bikes, damage to the stores was extensive. Harmes said it's hard to imagine it wasn't the same suspects in both break-ins. "It was the exact same number of people, it looked like the same style going after the same products, so it's pretty easy to surmise it's the same group of guys," he said.
Mountain Motorsports is offering a $5,000 reward for information in these smash and grabs. Call Douglasville Police or Conyers Police if you have information on the crimes. You can also call Crime Stoppers at 404-577-TIPS(8477)
You can follow Kevin on Twitter @krowson11alive and like him on Facebook