'Respect the Flag' group indicted as street gang | News
DOUGLASVILLE, Ga. -- A group active in supporting the display of the Confederate Battle flag has been indicted as a street gang. 
The group known as "Respect the Flag" was indicted by a Douglas County grand jury. 
The Douglasville Police Department and the Douglas County District Attorney conducted an investigation to determine if any laws were broken.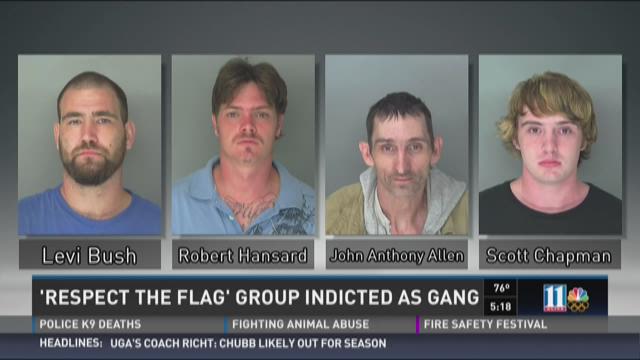 Friday, the grand jury passed down the indictment of fifteen individuals. According to the indictment, they're charged with "violations of Georgia's Street Gang Terrorism and Prevention Act and Terroristic Threats". Two members of the group were also charged with battery for an incident that occurred at a gas station that same day. They're accused of hitting and kicking a man, causing scratches and bruises. 
Out of the 15 indicted, only four had been arrested as of Monday evening. Scott Chapman, John Anthony Allen, Robert Andrew Hansard and Levi Devin Bush made their first appearances before a judge on Monday. Bail has been set for each at $9,000.
PHOTOS: "Respect the Flag" arrests